Measure your entire customer journey across Golf, Leisure, Spa & Hotel and F&B.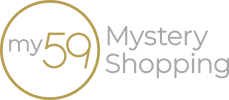 59club's Mystery Shopper process allows you to understand business trends, monitor performance, develop staff and exceed customers' evolving expectations.
An independent mystery shopper audit allows managers to view their club through the eyes of their customers. Feedback will pinpoint strengths and weaknesses, whilst the ability to make service comparisons - to chosen competitors, the 59club industry and best performing clubs - on a global scale, delivers the motivation to advance.
The audit criteria dissects your service offering into the following categories: staff attitude, sales & upselling aptitude, facility standards and general operating procedures. This generates real and current information that can be acted upon.
59club have mapped out the perfect service experience within every revenue stream, complete with the flexibility to customise audits to reflect your individual customer journey.
Mystery Shopper Audits
Food and Beverage:
Casual Dining
Food to Go
Premium Dining
Golf:
Custom Fitting
Golf Break
Golf Tuition
Group Golf Sales
Membership Experience
Member Sales
Retail Enquiry
Visitor Experience
Hotel:
Conference & Events
Hotel Guest
Leisure, Spa & Beauty:
Membership Sales
Member Experience
Spa Day Experience
Massage / Facial
Spa Break