The greatest thing about golfers is that they like to play in groups. No one likes to play golf alone and that gives us a huge advantage, whether that's a monthly seasoned away day, or an annual group of 40+ visiting golfers, we want them to choose to visit us, right?! But are we consistently hitting all the high notes during their enquiry? After all, they're probably canvasing a few other venues for the best rates.
But does rate really matter?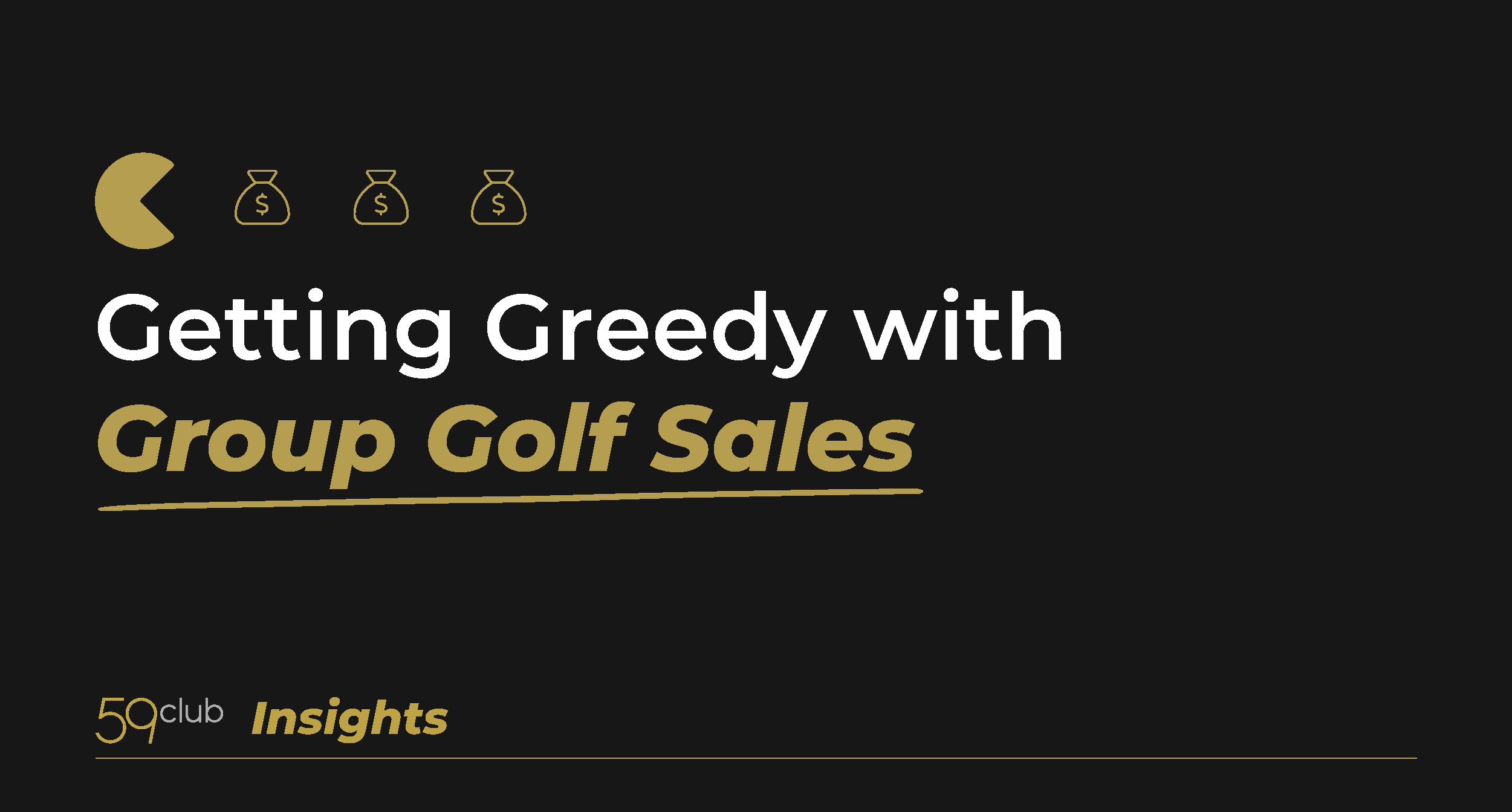 To some, absolutely! Rate may be everything – but when you consider;
Value = Experience less Cost, it's the experience that we really need to pitch, and that's where excellent customer service and call management will always win, but how do you know what to pitch?
Well, I'll let you in to a little secret – it all comes down to following a solid sales process – none of this wishy-washy stuff – and at 59club we're experts at mapping out the perfect journey, so here's some helpful hints & tips, just for 10.
Phone rings – so where do you start?
1. Has the group been before?
2. What's their previous experience, where did they visit; what did they enjoy; and what are the most important factors to ensure a successful event?
3. Discuss their previous budget and typical spend.
4. Sniff out the competition; who are we up against, have they made other enquiries, have they been given any package prices?
5. Discuss the frequency of the event?
6. Data collection – name, email, number, address, how did they hear of us, what prompted them to call – we want it all…
7. Event data – date, times, number of golfers and their level of flexibility
8. Establish the parameters of their budget?
9. Understand the event specifics – and boy there's a lot of technicalities to cover here, from F&B requirements, on-course services, and prize tables, to golf clinics and leaderboards.
10. Demonstrate that you truly value their business.
Promotion begins…
Then it's a simple case of delivering a 'tailored' promotion to exceed expectations; as you discuss the venue, your product and your USP's – demonstrating added value along the way!!! And please ALWAYS give more…
Sales close & Follow up…
Finally, you start your 'sales close' and agree your follow-up protocol, because we're going to be proactive with our next steps. Whether that's still attempting to convert the business, offering to hold space, or issuing a personalized proposal; or simply providing pre-visit advice having secured the booking.
Yes, the rate may be high on a specific day or time, but by simply understanding the flexibility of your group; you may well be able to come up with an alternative tee time to help shape a great package for them. That's what group golf is all about, keeping the group happy, and if we can be seen to value their business, tailoring our offering to accommodate them, tweaking this and that to give them the very greatest experience for their buck, then we are hard to beat!
Stop thinking of golf as a solid flat rate – how can it be, when there are so many SPECIFICS to navigate with the group organizer, and added extras that may well cost you nothing, but make the group feel like a million dollars.
If you start out with a solid sales process, designed to glean the information necessary to over-pitch your offering, then you're on to a winning formula.
Ask your regional 59club manager about our Group Golf Sales audits, education and survey tools. There really is a better way to do things, and we are here to help guide you through initiating that sales process…