59club's 'Eminent Collection' celebration is set to return this fall, as we continue to recognize the finest properties & leaders across the world of golf & hospitality, for their unwavering dedication to Customer Service Excellence.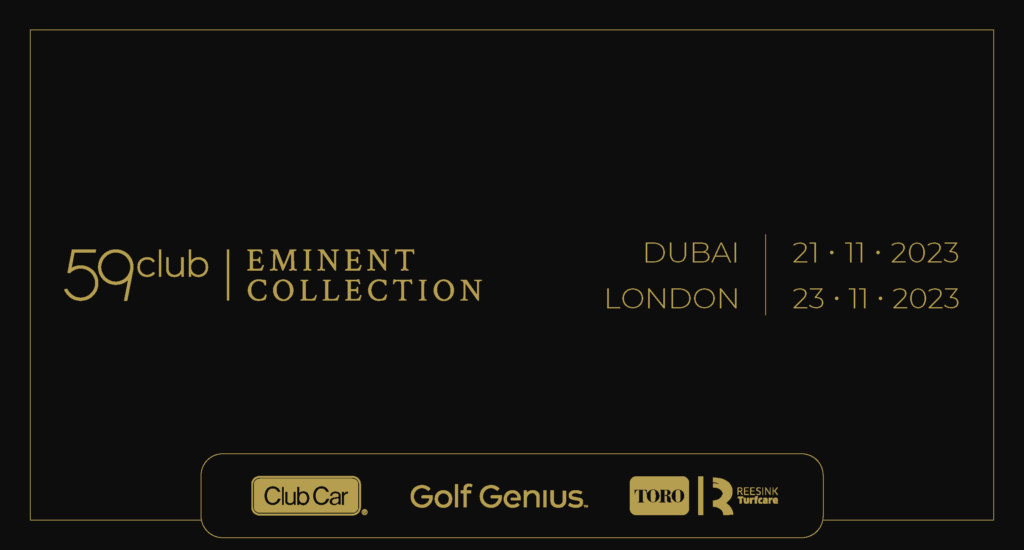 With exclusive events taking place at Trump International Golf Club, Dubai, and at Wentworth Club, England on the 21st and 23rd of November 2023 respectively; 59club are delighted to announce that their signature partner; Club Car has once again extended their commitment to the Collection; with both Reesink Toro & Golf Genius also aligning their brands with this unique portfolio of industry professionals, as the 2023 inductees are set to be announced.
Eligibility into the 'Eminent Collection' is based solely on achievements across the 59club Service Excellence Awards, with individual and team accolades, along with 59club Flag Designations, all contributing towards the Global Eminent Benchmark of Excellence; measuring performances over a minimum of 5 years.
In 2022, just twelve 'properties' from within 59club's international network had achieved the required benchmark synonymous with the Collection, with a further twenty-two 'leaders' honored with Eminent Status.
Of the impending celebrations, Simon Wordsworth, 59club CEO said;
"The ultimate accolade 59club can bestow on any venue or individual is to grant them entry into The Eminent Collection. The calculation is fair, transparent, objective, and open to all industry professionals, and by design showcases individuals and venues who not only invite independent scrutiny, but who then deliver outstanding and consistent performances across a minimum of five years.
"It is my honour and privilege to continue to shine a light on the people who are ultimately shaping the direction the industry continues to take, by maximising the experience that every single customer can enjoy."
As the wider industry waits on bated breath for the 2023 announcement to be made later in November; 59club are preparing to host a full house, as the entire Collection reconvenes to officially welcome the newcomers as they join this elite group of industry champions.
For more information about the Eminent Collection, or to learn about 59club and their plight towards elevating service standards and profitability across the golf & hospitality industry; please visit www.59club.com