As the world continues to blaze the digital frontier, there are now more ways than ever to book a tee time or make a dinner reservation at your club. At face value, that's a good thing. Additional ways to sell tee times and restaurant covers mean more ways to make your club more accessible and potentially profitable.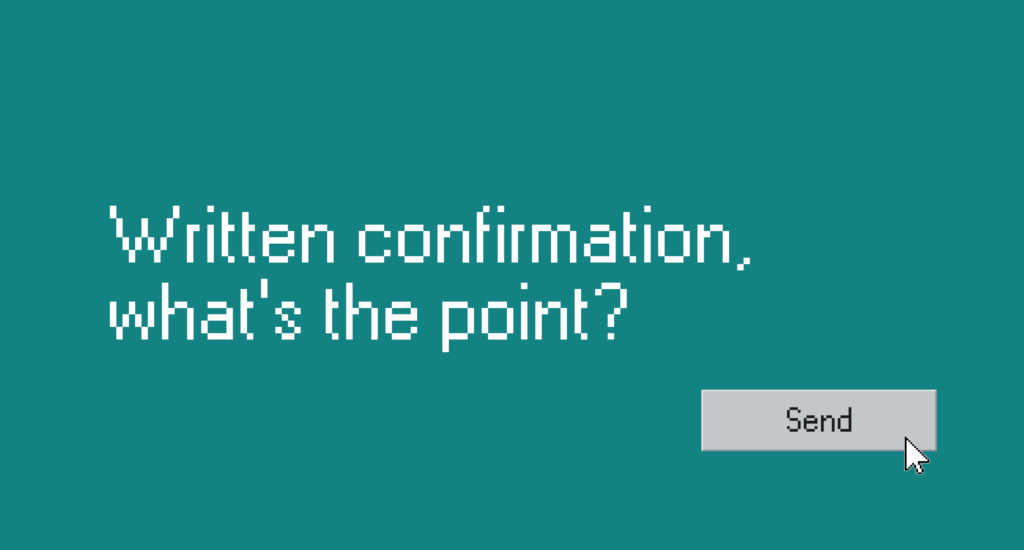 But new digital pathways also create opportunities for digital missteps. Mainly, customers want to know their credit card information is secure and they want to know when you have reserved their spot – whether that be for a tee time booking, a dinner reservation or even a treatment at the health spa. And if you're not providing a written record of their place on your tee sheet or a table at your restaurant, customers may start to feel uneasy about the entire process.
More importantly, an inquisitive written confirmation – which we'll discuss below – eliminates common customer service problems and opens additional upsell opportunities at your club and restaurant.
Golf Visitor Experience Mystery Shopper Insights:
The global golf industry failed to request an email address during 40% of all tee time reservations made during 2022.
17% of all email confirmations went astray; either the incorrect email address was recorded, or possibly never sent.
Only 56% of golfers ever received their booking confirmation…
What's the point?
The initial purpose of a written confirmation is to acknowledge the correct date and time of the reservation. Simple. The bare minimum.
If you ordered a widget from Amazon without a confirmation of the purchase, you would be left wondering if Amazon is, in fact, fulfilling the order. That kind of digital misstep creates enormous uncertainty and is unlikely to be the first impression you want to convey to your customer.
With email fields being mandatory, most online tee-time and restaurant booking engines provide immediate and automated written confirmation, allowing customers sight of their booking details and the opportunity to spot any potential errors. When the reservation is booked over the phone the duty of collecting the email address sits with the reservations agent. According to Matt Roberts, 59club's Director of Training & Education, the absence of a written confirmation can lead to uncertainty and potentially some level of confrontation, not to mention the potential loss of revenues.
"If you're taking the reservation by phone, it's imperative to take the customer's email address and ensure it is correct by repeating it back to your guest to avoid errors. From our experience, you would be amazed at how many people show up at the wrong time or even on the wrong day. This leads to an awkward conversation at the check-in counter trying to figure out how the error may have occurred."
Additional Components
"My customer has booked, my software generated an immediate written confirmation, or my staff have access to send a 'templated' email. Done and done. Right?" Not exactly. For many places around the world, golf and secondary revenue channels like restaurants and bar are seasonal. Operating hours, menu items, club dress code and practice facility access and other large parts of the overall golf experience can change and be different from week to week. How often do you rehash the templated message? – and does it contain everything you'd expect?
Small additions to a written confirmation with updated restaurant hours, dress code or practice facility access, for example, ensure customer expectations match your club's operations. According to Roberts, clubs who don't include this information in their written confirmation are leaving themselves open to poor customer experience.
"Everything in the written confirmation has to match the customer expectations," said Roberts. "The last thing you want to happen is someone arriving at your club expecting to eat breakfast and the restaurant is closed or wishing to hit some balls prior to play and it just happens to be that one day the range is closed for maintenance!
Worse yet, and the one that can cause confrontation, is when a player arrives wearing an outfit outside of the club's dress code policy. The staff are now faced with an undesirable dilemma: do I make a concession to this one visitor and risk others perceiving this as special treatment, or do I force this customer to purchase attire from the club shop to then adhere to the dress policy? A bad experience either way. Both are avoidable with an informative written confirmation."
Revenue generation
Asking questions or providing additional information within the written confirmation also creates upselling and subsequent marketing opportunities. A common example is the promotion of a golf cart/buggy if one hasn't been reserved at the call stage. Just by offering a link or a contact to the consumer for them to be able to reserve prior to arrival is imperative for increasing revenue. It also allows the club to prepare this hire item for the arrival of the guest.
Any operator will tell you that the whole check in experience can be busy, but then throw in additional needs of the customer, such as buggy hire, club rental, use of a caddy, or even a personalized gift that the club wasn't aware of, will lead to more time servicing the guest's needs and a delay in an already busy operation.
Multiple course operators can also promote the options of an upgrade or highlight other courses within a group. The booking confirmation can also promote elements such as accommodation either on-site, or at other local establishments that offer preferential rates when booked via the club.
And, let's face it, the opportunities to upsell are endless, when you consider other services and facilities such as high-ropes, custom-fitting, score card marking, leisure & spa usage, private dining etc that can be accessed either on the day, or that may tempt a future return to the club.
Directions or a link to an interactive map, potential transfers and how to book them as well as any information about how to access the club are always useful for any visitors who may be unfamiliar with the area.
Finally, and possibly the most important, are the Terms and Conditions of the club which are there to provide clarity on payment and cancelation, pairing up policy, bad weather and course closures must also be included within the confirmation. You will always be in a more comfortable position, when facing any confrontation, if your T's and C's are set in place.
Of course, this is just the tip of the proverbial iceberg when it comes to customer service at your club, and your fellow 59club manager can guide you through industry best practices.