A case Study exploring global New Member Onboarding trends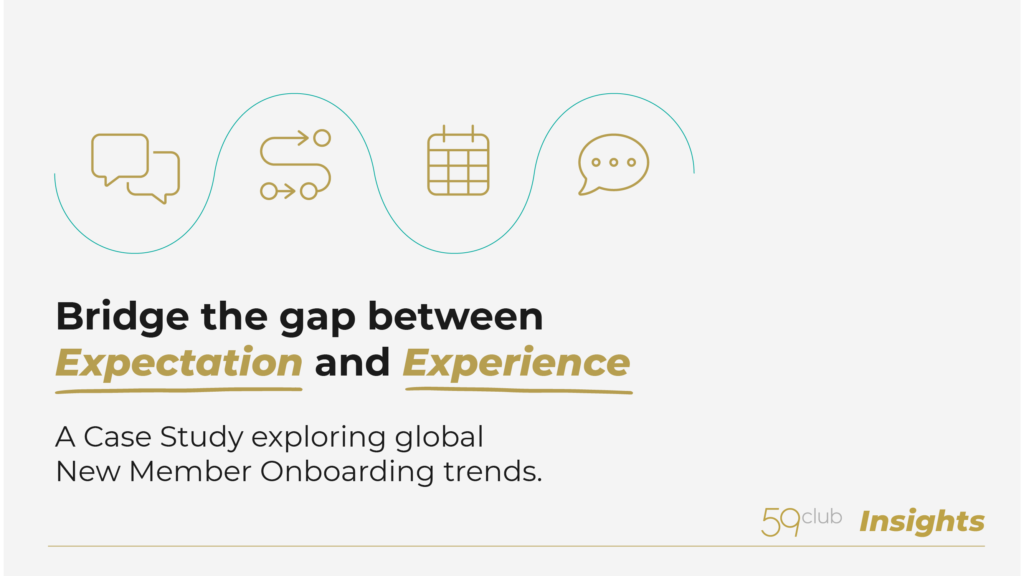 In the modern landscape, data stands as the pivotal cornerstone guiding our actions and shaping our strategies. It offers insight, reveals patterns and uncovers hidden opportunities.
In short, data becomes our road map. Insights collected from our recent multi-national survey of new club members reinforces not only the importance of data collection in this industry, but also how action – or in this case, inaction – can create a mismatch between Member needs and Club operations.
Out of more than a thousand global respondents to the member onboarding survey, a striking 80 percent cited "lose weight or get in shape" as the primary motive for joining the health club. This clearly signals a profound desire among members to prioritize their fitness journey and take proactive steps towards health and wellness.
However, there exists a disconnection in the club's member service ecosystem, indicated by other data points from the survey. A sizable 82 percent of the respondents disclosed that they had not received a new member welcome call within 5 days of joining the club, and only 47 percent received any type of health & fitness induction with the personal trainer, with 40 percent failing to even receive a fitness class schedule.
This data demonstrates a significant gap in communication and service delivery that can hinder members from realizing their wellness goals. It paints a stark contrast between what members expect and what they experience.
Data is a powerful tool, but it's only as valuable as the action it inspires. What can we, as industry leaders and club managers, do with this data? How can we turn these insights into effective strategies?
Firstly, this data suggests a crucial need to improve communication with new members, ensuring they are well informed about the fitness services available to them. This should involve a personalized welcome call, with an invitation to attend a face-to-face meeting with the personal trainer and / or operations manager, to provide all the necessary items and advice to help them integrate instantly into club life. This simple act of proactive engagement can not only facilitate their fitness journey but also build a stronger rapport, promoting a sense of belonging within the club community from day one.
Secondly, the importance of implementing a comprehensive and structured onboarding program for new members. This should start with a new member initiation meeting, this could include guided tours, allowing the club to emphasize the various fitness services, the different fitness classes or group activity programs and to make introductions to other employees within the fitness team as well as like-minded members, those of a similar ability, or members with relatable fitness goals.
Subsequent appointment scheduling – should not be overlooked, employees should as part of their regular service calls attempt to engage new members in health assessments, equipment inductions, fitness programs and future goal settings, with appointments set aside for regular reviews – and perhaps a complimentary session with a personal trainer. The goal is to provide an enriched experience that encourages members to actively utilize the club's fitness offerings, and engage with fellow club members and the wider fitness team, whilst serving them to meet their goals.
Lastly, feedback mechanisms should be put in place to continuously gather member input. These might include regular surveys and service calls where members can share their experiences and ideas. This ongoing data collection not only helps to identify any areas needing improvement, but also to anticipate changing member needs, fostering a responsive and adaptable club environment.
This example is a wake-up call for clubs to re-evaluate and reinforce their new member engagement strategies. It's a clear testament to the importance of effective communication, a well-structured onboarding process, and ongoing feedback collection. By embracing data and taking the appropriate action, clubs can bridge the service gap, enhance member satisfaction, and ultimately, help members succeed in their fitness journey. After all, data is a tool, and its power is realized only when it's put into action.
If you are ready to measure your member experience and develop a structured onboarding process for your new golf and leisure club members, then help is at hand…
Our New Member Integration Survey, Member Retention Survey and Member Exit Survey Templates will deliver the data to support you to tailor your offering throughout your entire member life cycle.
And you can follow the education lessons within 59club's Mentor platform, or request for one of the 59club training managers to guide you through the various training modules.
Together we can build a successful member integration and retention strategy for your club, ensuring members feel welcome, connected, and valued, with the purpose of encouraging them to visit more often, enter into club life, refer friends and family and linger-longer whilst they are at the club.