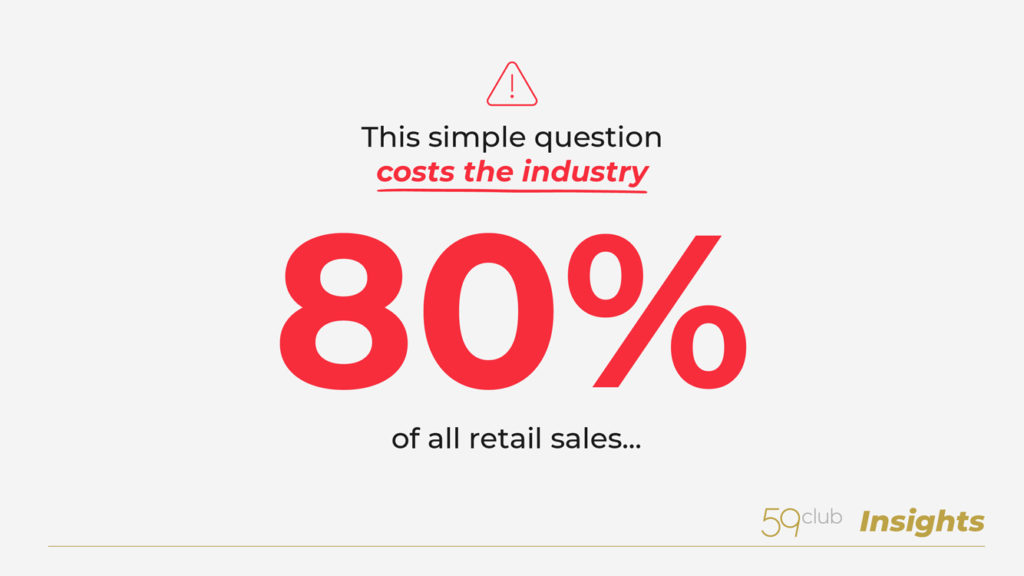 In the world of retail, there is a common question that has plagued salespeople for years. It's an easy question to ask, an easier question to answer and it does exactly nothing for your bottom line.
The question in question? "Can I help you?"
It seems innocent enough, a well-meaning attempt to assist customers. However, according to 59club Global Trainer Matt Roberts, this question may be the absolute worst to ask in any retail setting, and what's more staggering is that 59club's industry leading data suggests that 75% of all mystery shoppers were either asked this very question, or simply ignored after showing interest in a product.
The Ineffectiveness of "Can I Help You?":
According to Roberts, the question "Can I help you?" often falls flat, and worse, creates a negative feedback loop between you and your customer. The most common response? "I'm just looking, thanks." This lackluster interaction fails to create a meaningful connection between the salesperson and the customer, leaving both parties unsatisfied.
A fact supported by 59club's mystery shopping data, which highlights, "of those that were asked this question; 58% identified that they would not wish to make a purchase". Immediately, nearly 80% of customers who are asked "Can I help you?" aren't buying. Now that's a big-time problem.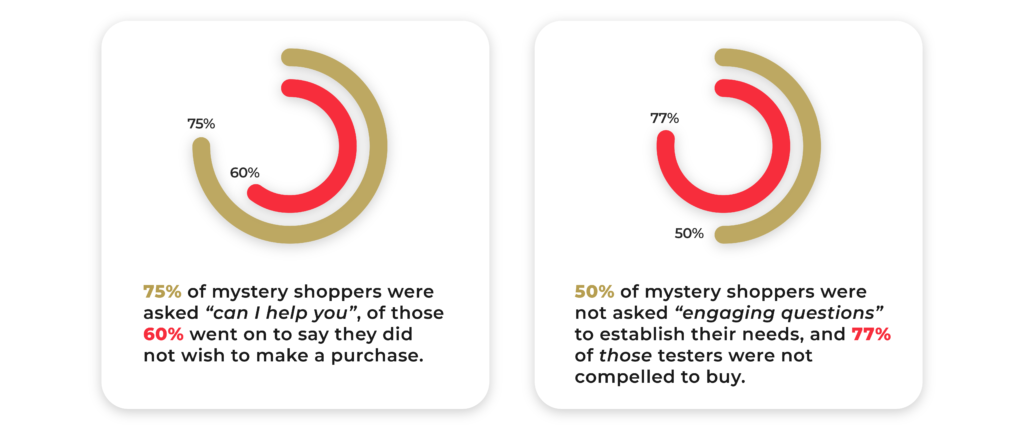 Missed Sales Opportunities:
Asking the wrong question can trip up sales professionals and hinder their ability to create sales opportunities. Instead of resorting to the generic "Can I help you?" query, it is crucial to engage customers in a conversation that promotes active dialogue. By understanding their specific needs and preferences, salespeople can tailor their recommendations and provide a more personalised experience.
Turning Conversation into Sales Opportunities:
Having eliminated the "Can I help you?" scenario; 59club's education stresses the importance of asking engaging questions that promote casual chat. For instance, sales staff asking customers a combination of open and closed questions about their golf game, their abilities, or their favourite part of their game can lead to fruitful conversations. These interactions can uncover areas where customers are struggling and allow sales professionals to offer relevant solutions or services. By actively listening and providing personalised recommendations, retailers can turn missed opportunities into successful sales. What do customers want in a personalised experience? Let's find out through needs analysis.
The Power of Needs Analysis:
One key element of 59club's education is the importance of conducting a needs analysis for customers seeking a particular product. Rather than immediately showcasing a range of options, salespeople should focus on understanding what the customer is looking for in that specific product. By asking a selection of well-constructed questions about their preferences, why they're in the market for the product in the first place, current usage, and desired improvements, sales professionals can gain valuable insights to guide their recommendations. Failing to conduct a proper needs analysis can result in further missed sales opportunities. Alarmingly, only 50% of 59club mystery shoppers received a needs analysis during their encounter with the retail team, and to their detriment, 77% of those shoppers stating that they did not feel compelled to make a purchase based on their sales experience.
What's a better way?
A crucial aspect of the retail sales process is the significance of linking product features to their benefits. Rather than overwhelming customers with a laundry list of specifications, salespeople should emphasize how a product can meet their specific needs and provide value. By identifying the benefits that resonate with the customer, sales professionals can create a compelling case for making a purchase. This approach not only enhances the customer's understanding, but also increases the likelihood of closing a sale.
In the realm of retail, the question "Can I help you?" may be the worst one to ask customers. It often leads to missed sales opportunities and fails to establish a meaningful connection. By embracing alternative approaches, conducting a needs analysis, linking features to benefits, and promoting engaging conversations, sales professionals can transform their interactions with customers.
It is through these personalized and attentive strategies that retail businesses can foster stronger customer relationships, increase sales, and provide exceptional shopping experiences. So, the next time you step into a retail environment, remember that a genuine conversation can make all the difference.