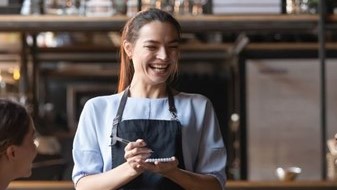 Making members and guests feel valued and welcome is an absolute no brainer for any hospitality venue, but for golf course F&B establishments which often operate with smaller margins and lower foot traffic than traditional restaurants, the line between success and failure is razor thin.
And with labour shortages and employee turnover at levels not seen in decades, the importance of increasing margins through upselling and keeping good employees has never been higher.
According to 59club's global data; the F&B customer service tactic most in need of improvement is also the least costly, and happens to be a catalyst for increased margins. It also helps raise tips for servers and happens to be one of the key components of exceptional customer service – friendly conversation starters, A.K.A the upsell engine.
Customers are far more likely to purchase additional or premium items when they have a personal connection to their server.
Something as simple as a friendly introduction from the server, with the attempt to involve the table in engaging conversation can be the difference between your customers ordering the least profitable items on the menu, or on their recommendation, opting for the higher ticket, higher return options, or additional courses.
Developing rapport through the 'friendly conversation starter' tactic is something every server in your organisation should strive for at the beginning of each individual interaction. And it works.
This same tactic is also one of the driving forces of higher tips. Since most diners chose to tip a percentage of the bill; raising the final total through upselling – made easier through friendly communication – will increase gratuities and employee satisfaction, and assist in lowering employee turnover.
The Stats…
Clubs are simply not taking advantage of this tactic. When it comes to a server's willingness and ability to initiate friendly conversation starters; the podium performers score just 58%, the 59club industry average drops to 40%, showing an industry wide opportunity for growth and higher F&B margins.
Despite all the positive scenarios related to upselling, staff are just not on board. We have to focus their attention and encourage them, and give them the confidence to give upselling a go. The opportunity to sell more and increase F&B profits is easy money, yet the industry only attempts to upsell additional items on 37% of occasions. The podium venues also need to re-focus their servers, as they only achieved 56%.
Let's do the math based on a club that see an average of 140 players per day, of which 40 of them order a meal after their round.
If the servers use friendly conversation starters to prime the table for the upsell of an additional course priced at £5 (with a 60% margin), and managed to convert just half of the 40 diners; the result is a £21,900 uplift in profit over the course of one year, just by implementing a simple conversation piece in your customer service toolkit. Win win.
And let's not forget the opportunities to upsell simple but highly profitable snack items & drinks to the 140 golfers before they even teed off ! And that's something we can all get more bang from our buck; with the podium set performers only attempting to upsell 30% of the time, and the industry missing even more opportunities, as they only attempt to upsell to a fifth of all golfers !
Implement friendly conversation starters today, and watch your profits sore.