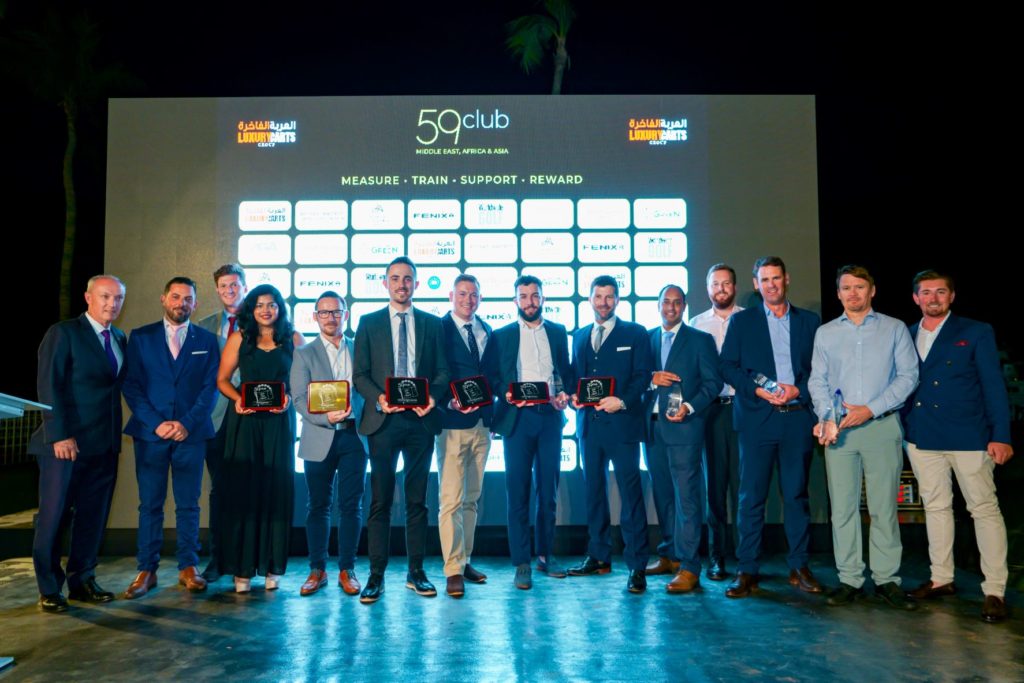 59club MEA & Asia brought the Golf & Hospitality Industry together on Thursday 8th March to celebrate elite standards of customer service excellence, as their annual awards event descended on JA Resorts, Dubai.
Festivities began with a round of educational and networking opportunities both on-and-off the course, before the evening celebrations paid tribute to the best performing properties within 59club's mystery shopper programme of 2022.
59club's coveted Gold, Silver and Bronze Flag awards were presented to nineteen properties across the Middle East, Africa & Asia for having achieved the required standard of customer service as well as providing the finest facilities and services for their customers enjoyment, as independently adjudicated by 59club's comprehensive benchmarking system.
Emirates Golf Club received the highest of those accolades on the night – the Ultimate Service Excellence Award for their leading performance within the Gold Flag Designations. They also saw their F&B department awarded the team of the year title, a triumph that Mark Bull, 59club MEA Director previously revealed had seen Emirates' CX performance across the F&B department rise by 5% and the overall golf operation up by as much as 6% over the past 12 months.
Cian Hurley, Director of Golf at Emirates Golf Club said of the awards, "We are delighted to have won the 59club Ultimate Service Award here at Emirates golf club. This is a true reflection of the overall team effort that goes into reaching and attaining the level of service standard we aim for. Working alongside the team at 59club has helped us to realise this achievement, the support provided is invaluable to us."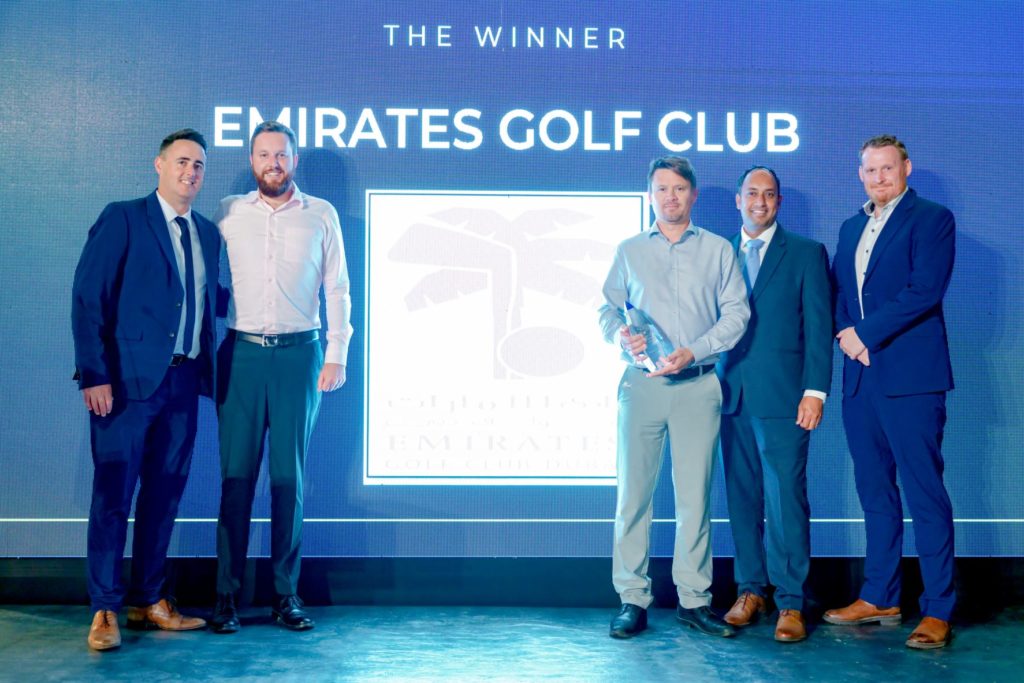 Those properties achieving Gold Flag Designations on the night were: Abu Dhabi City GC; Al Hamra Golf Club; Dubai Creek; Dubai Hills Golf Club; Els Club, Dubai; Emirates Golf Club; Jumeirah Golf Estates; Trump International Golf Club; Yas Acres Golf & Country Club; Yas Links, Abu Dhabi.
Meanwhile six Silver Flag Designations were awarded to Al Zorah Golf Club; Arabian Ranches; Bryanston Country Club; Meydan Golf; Montgomerie Golf Club, Dubai and Vattanac Golf Resort. With Aquella Golf & Country Club; Riverdale Golf Club and Thana City Country Club claiming Bronze Flag Status.
Further celebrations were realised for Abu Dhabi City Golf Club, after they took the double crown having seen both their Retail & Membership departments awarded 2022 team of the year titles.
Rhian Lobo, General Manager, "We're thrilled to win best Membership sales team, best retail store and reach the 59club Gold Flag award. Congratulations to the entire team for providing exceptional customer experience standards throughout the facility."
Trump International Golf Club, Dubai became the my59 Ultimate Service Excellence Award heroes, an honour they have retained for the fourth consecutive year, having consistently demonstrated their commitment to regularly analyse and advance their customer service levels using a wealth of satisfaction surveys.
As proceedings unfolded, first time 59club champions Yas Acres Golf & Country Club took to the stage – having only enlisted the customer service specialists' services the previous year, proving they are true professionals when it comes to service excellence – having been awarded Agronomy Team of the Year for their consistency on the golf course.
Saadiyat Beach Golf Club also had reason to celebrate after seeing their team claim the enviable Golf Operations Team of the year award.
Meanwhile, 59club Asia saw success from two newcomers to the 59club community: with Aquella Golf & Country Club claiming a Flag Designation and both the Retail, and F&B Team of the year accolade.
Speaking of their Bronze Flag Designation and their multiple team of the year successes in what is their first 59club Service Excellence Awards Ceremony; Brian Gibson, General manager of Aquella Golf & Country Club said; "Working with 59club Asia has helped our team achieve the service levels required and elevate Aquella G&CC to be one of the top golfing destinations in Thailand, benchmarking Aquella G&CC against the top clubs & resorts in the world allows the team to focus on the guest experience and continue to exceed customer expectations. The on-site training provided by 59club Asia has been instrumental in our success, the team members are more engaged as a result of the tailored and detailed training sessions delivered by 59club Asia associates, not only are our team consistently delivering a great experience, as individuals the 59club Asia training helps develop and shape their career, providing vital guidance and development"
Renowned Riverdale Golf Club celebrated being awarded Bronze flag designation, having worked tirelessly with their team to develop member and guest experience following the significant challenges Asia experienced during the pandemic, achieving this awards testament to the teams dedication to Excellence.
The same can be said for Thana City Country Club who also celebrated achieving Bronze flag status, Thana City was especially pleased to be recognised after investment saw them rebuild their greens 18 months ago which has been lauded in the region, as they continue to drive customer experience and focus on attaining Golf flag status.
And finally, Vattanac Golf Resort also proved that standards at the Cambodian resort are amongst the highest in Asia, after they scooped 59club's Golf Operation Team of the year title, and their greens department won Asia's Agronomy Team of the year award for consistently delivering a well-defined and presented golf course of the highest standard.
Of the annual hallmark event in the golf & hospitality business community, Mark Bull 59club MEA Director said "It was our pleasure to gather the Industry together at JA Resorts for a celebration of the Industry success across MEA & Asia. Congratulations to all winning clubs and managers. We are already looking forward to making the 2024 awards a bigger and better event for all."
Araya Singhsuwan 59club Asia Director, commenting on the success of the annual event; "We are immensely proud of all our nominees and winners this year, everybody has tirelessly dedicated themselves, not only to deliver above and beyond excellence, but to do better and achieve the best in both their personal and professional lives. It is inspiring, and we are very happy and proud to see their achievements. Once again, congratulations to all, and we will continue to support all of our clubs on their journey"
59CLUB MEA & ASIA 'SERVICE EXCELLENCE' AWARD WINNERS (in alphabetical order):
Ultimate Service Excellence Award: Emirates Golf Club;
Gold Flag Designations: Abu Dhabi City GC; Al Hamra Golf Club; Dubai Creek; Dubai Hills Golf Club; Els Club, Dubai; Emirates Golf Club; Jumeirah Golf Estates; Trump International Golf Club; Yas Acres Golf & Country Club; Yas Links, Abu Dhabi.
Silver Flag Designations: Al Zorah Golf Club; Arabian Ranches; Bryanston Country Club; Meydan Golf; Montgomerie Golf Club, Dubai and Vattanac Golf Resort.
Bronze Flag Designations: Aquella Golf & Country Club; Riverdale Golf Club and Thana City Country Club
Golf Operations Team of the Year: Saadiyat Beach Golf Club & Vattanac Golf Resort
Agronomy Team of the Year: Yas Acres Golf & Country Club & Vattanac Golf Resort
Golf Retail Team of the Year: Abu Dhabi City Golf Club & Aquella Golf & Country Club
Food & Beverage Team of the Year: Emirates Golf Club & Aquella Golf & Country Club
Golf Membership Sales Team of the Year: Abu Dhabi City Golf Club
My59 Ultimate Service Excellence Award: Trump International Golf Club, Dubai